6 Ways to Treat Dry Knees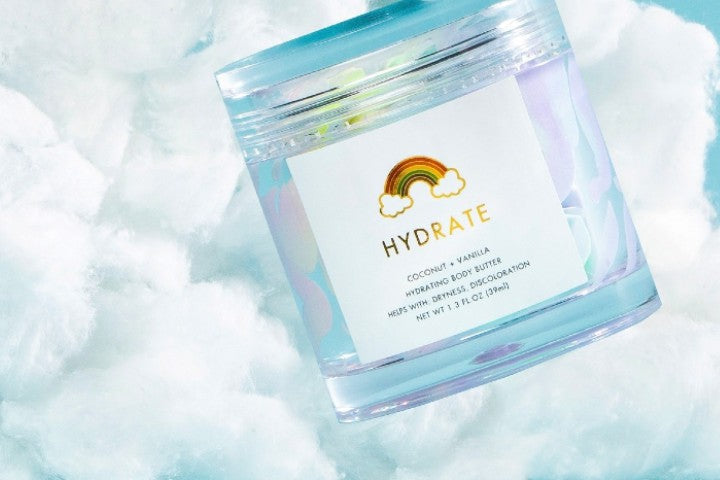 Everything from hot showers to temperature changes can cause dry knees. Luckily, you don't have to put up with knee dryness forever. With a few good skincare products and consistency, you can definitely get those supermodel-esque knees you'll be dying to show off underneath your minis and floral dresses.
Here are six easy ways to treat dry knees so you can finally see the back of dryness, flaking, and roughness — and put your best knees forward!
#1: Exfoliate
Exfoliating your knees won't hydrate them, but it will make them instantly smoother and prep skin for other skincare products. See, exfoliation helps to buff away dead skin cells on the skin's surface, revealing fresher, smoother skin. Besides improving skin texture, it also enables other products to absorb better into the skin. In other words, starting with freshly scrubbed knees will mean all those other products you layer on — lotions, creams, oils, or whatever — will penetrate deeper and work even better!
Buff your knees with Rainbow's Exfoliate Scrub. It's made with moisturizing mango + resurfacing glycolic acid to alleviate uneven texture, rejuvenate and brighten.
#2: Apply a Hydrating Mask
You'd probably never think of putting a face mask on your knees, right? But why not? After all, if it hydrates your face, it'll do the same for your knees. Since knees are prone to drying out and becoming rough, slather them in a moisture-sealing formula like Rainbow's Hydrate Mask.
This gel-based glossy mask features hyaluronic acid + vitamin B5 to drench skin in lasting moisture, plump out creases, and keep skin feeling soft to the touch. Plus, it's made for both the face and body, so anyone with dry skin can enjoy head to toe dewiness with this dream formula.
#3: Dry Brush
Body brushing offers so many benefits. For starters, it exfoliates — gently lifting the buildup of dead cells to reveal your smoothest knees. Second, it increases circulation and blood flow, thus stimulating the lymph system to remove toxins and give skin a glow boost. And finally, it's also been said to reduce stress. By incorporating dry brushing into your daily skincare routine, you can look forward to silky smooth knees in no time.
You don't just need to use it on your knees, either. Dermatologists swear by dry brushing as a cellulite treatment. By moving the brush in circular motions, it can slough away dead skin and stimulate circulation for smoother looking skin and added luminosity.
#4: Try a Home Remedy
There are so many home remedies you can try to fix dry skin on the knees. Some of our favorites include coconut oil, olive oil, almond oil, shea butter, aloe vera, and cocoa butter. Apply any of these natural oils or butters onto your knees, and let it sink into the skin. Do not rinse. Leave it on for as long as possible so that it can penetrate the skin and provide intense hydration to parched knees.
You can also try whipping up a homemade scrub made with lemon juice and baking soda to gently buff away dull, dead cells. Alternatively, create a DIY sugar scrub by mixing together sugar and honey. Then apply the thick paste to the affected area using circular motions, let it sit for 20 minutes, and rinse thoroughly with warm water.
These formulas can be highly effective at improving skin tone and texture while even fading the appearance of knee hyperpigmentation.
#5: Moisturize
Never forget to moisturize your knees with a thick, rich body lotion. This'll help seal in moisture, keeping your knees soft and smooth. Fortunately, you'll find plenty of over-the-counter options to keep your knees hydrated. Look for humectants and emollients such as hyaluronic acid, shea butter, and coconut oil. These are some of the best ingredients out there for moisturizing your knees.
In addition to a regular body cream, you can also try body oils and serums. Oils are best used last in your skincare regimen to seal all that moisture in. Serums contain high concentrations of active ingredients to target specific skin concerns. So, if you're looking to treat knee dryness along with dark knees and pigmentation issues, the right serum can help.
Start with Rainbow's vitamin C-powered Smooth Serum which also contains brightening turmeric extract) followed Rainbow's Hydrate Body Butter, a formula of coconut, vanilla, and vitamin E to. Together, they'll work to brighten, smooth, and hydrate your knees while addressing rashes, redness, and sun damage.
#6: Coat Your Knees in Sunscreen
Every skincare routine - including that of your knees - should start with a cleanser, then a serum, then a moisturizer, and sunscreen. SPF won't hydrate, but it will protect your knees from UV exposure, thus preventing the onset of dryness and hyperpigmentation.
Before leaving the house each morning, make sure you apply sunscreen everywhere — and don't skip your knees unless you're wearing trousers.
WHEN TO SEE A DERMATOLOGIST
If your knees feel severely dry, or you're experiencing other symptoms like flaking, cracking, or itching, consult a dermatologist. You may have an underlying skin condition such as eczema or psoriasis. Or you may simply have severely sensitive skin. Either way, it's best to get it checked if your symptoms feel uncomfortable or the steps above don't provide any relief.
WHAT YOU CAN DO TO PREVENT DRY KNEES
In addition to weekly exfoliation and daily moisturizing, the derms recommend taking a few preventative steps to prevent knee dryness. Try switching to gentle, fragrance-free products to avoid irritating and drying out your skin. Turn down your shower water temperature, as hot water is known for drying out the skin. And finally, switch to softer clothing to avoid friction that might lead to dryness, roughness, and irritation.
Dry skin is a common skin concern, and one that affects all areas of the body. To keep your knees silky smooth, start showing them more TLC with ultra-nourishing natural oils and skincare products, like those mentioned above. Your smoothest knees are only a few steps away. You just need to stay committed to this knee skincare routine!