6 Shaving Hacks that'll Legit Change Your Life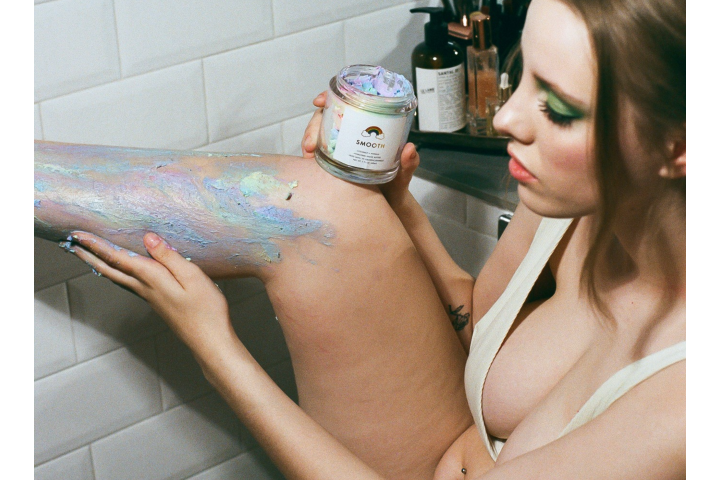 To achieve a great shave, you need to be using the right shaving products and the correct technique. A good shave also requires a few prepping and aftercare steps in order to prevent issues like nicks, razor burns, and ingrown hairs, and secure a smooth and irritation-free result.
Here are six shaving hacks you need to try RN to level up your shaving routine.
#1: Taking a Hot Shower
The best shaves start in the shower. The warm water will open up your pores, release the buildup of oil and impurities, and soften hair follicles, allowing the razor to glide easily across the skin. Lather up with a gentle body wash, rinse off, and then begin the next step.
The problem with showering in cold water is that your hair follicles won't soften, making it harder to achieve the smoothest, closest shave.
#2: Exfoliating Before Shaving
Over time, skin accumulates a buildup of dead skin cells and sebum which can clog your razor if you don't remove it. The best way to get rid of it is with gentle exfoliation. Using a body scrub, massage the to-be-shaved areas. Whether your underarms, legs, or bikini line (or all), pay extra attention to those areas that are about to undergo the hair removal process.
By lifting those blade-clogging dead cells, exfoliation can also enable other skincare products absorb better into the skin — enhancing their effects.
Our favorite product for the job is Rainbow's Smooth Body Scrub. Enriched with antioxidant-rich strawberry and hydrating niacinamide, this formula smooths uneven texture, diminishes dry skin build-up and reveals your freshest, glowiest skin. It's safe for all skin types, including sensitive skin.
#3: Using Shaving Cream Instead of Soap
Do you typically use bar soap or body wash to shave? Or maybe you create your own DIY shaving cream using conditioner or baby oil? Unfortunately, none of these are as effective as using a proper shaving gel, cream, or butter. Shaving creams are designed to create the right amount of slip so that your razor can glide along easily without causing too much friction against the skin — and ultimately irritation.
To make life easier and your skin A LOT smoother, always use a shaving cream or butter when shaving away the fuzz. It's the best way to achieve a close shave minus razor bumps.
Our favorite is Rainbow's Smooth Hydrating Shave Butter. It's made with a base of shea butter blended with coconut, vanilla, and vitamin E to hydrate, nourish, and soothe inflammation. Smooth Butter helps with ingrowns, redness, and razor burns. It's especially good for sensitive skin and coarse hair, and guarantees an irresistibly smooth shave.
#4: Rinsing the Blades Between Strokes
A quick trick for getting smooth skin without irritation is rinsing the blades between strokes. Every time you glide along your skin, you take a small amount of hair and shaving cream with it. These get clogged up in the blades, dulling your razor, and causing you to put more pressure on your skin as you glide the razor along. As a result, you end up red, cut, and bumpy.
When shaving, always use quick, short strokes in the direction of hair growth. After every stroke, rinse the blades and move to the next stroke. Continue doing this until you have removed your body hair. If you're not satisfied with the level of smoothness, you can repeat the process again, but try to go over the shaved areas again to avoid irritating the heck out of your skin.
You'll also find that rinsing your blades makes shaving a whole lot easier. And the best part is? It only takes a few seconds to do.
#5: Applying an Aftershave Serum
The shaving process shouldn't stop the moment you're hair-free. Freshly shaved skin is sensitive skin, prone to dryness and irritation. To keep skin smooth, soft, and healthy after shaving, be sure to nurture your skin with aftercare products like serums and lotions that prevent the onset of ingrowns while healing active inflammation.
It's not uncommon to experience razor burns and bumps after shaving. The best way to deal with it is by applying an aftershave oil or serum infused with soothing ingredients like aloe vera, tea tree oil, or lavender. All three offer hydrating and cooling effects to keep skin happy post-shave.
Since shaving can also cause hyperpigmentation, you could even try layering on a discoloration correcting serum to fade dark spots and blemishes caused by shaving.
#6: Moisturizing After Shaving
One step you should never miss after shaving is moisturizing. Both shaving and exfoliation can be extremely drying to the skin, which is why it's important to replenish lost moisture after rinsing everything off. Moisturizing also bolsters your skin barrier, protecting it from external aggressors and irritation. And of course, it leaves skin feeling silky smooth.
Our favorite is Rainbow's Hydrate Body Serum. Powered by hyaluronic acid, this humectant helps to attract and seal in moisture, keeping skin smooth and soft for hours. Hyaluronic acid can also plump out fine lines and wrinkles, keeping the skin looking youthful. For best results, apply a generous amount to freshly shaved areas and let it absorb before getting dressed.
If you're looking for something richer, try Rainbow's Hydrate Body Butter, an intensely moisturizing body lotion made with shea butter, coconut, and vanilla.
Try these six shaving hacks for yourself, and level up your shaving game right away. By incorporating these hacks, you can achieve a super close, super clean shave starting today. If you have very dark, coarse hair, consider laser hair removal instead of shaving or waxing. Laser hair removal helps to thin out coarse hair over time, making the shaving process much more manageable.
You can purchase Rainbow products at our online store, as well as at Walmart and CVS. Got questions about our products? Get in touch!