5 Cellulite Treatments that'll Change Everything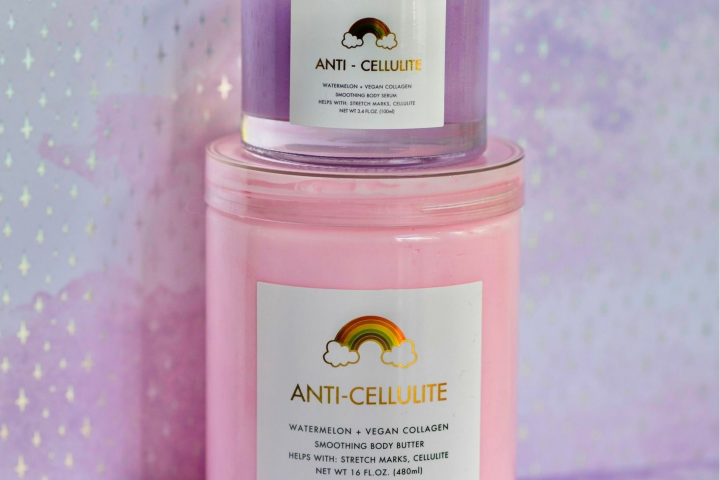 If you've got cellulite (and over 90% of women do!), you're probably wondering what you can do to get rid of it. While cellulite is 100 percent normal and nothing to feel embarrassed about, it's also okay if you're not happy with it and are looking for a way to reduce the appearance of cellulite at home.
Nowadays, there are plenty of cellulite reduction treatments including cellulite creams, serums, masks, and lotions.
Here's everything you should know about cellulite, and your best treatment options for smoothing out your skin.
What is Cellulite?
Cellulite is the name for dimply or lumpy skin, often also known as orange peel. According to dermatologists, cellulite forms when fat cells accumulate beneath the skin and push up against your skin's connective tissues — known as fibrous bands, or septa — which causes skin to dimple.
Cellulite is commonly found on the butt, thighs, stomach, arms, and hips. Everyone can get cellulite, even those who eat healthy and exercise frequently. Fortunately, having cellulite is nothing to worry about. It is purely an aesthetic complaint.
What Causes Cellulite?
From what the derms tell us, they main cause of cellulite is the weakness of connective tissue commonly caused by hormonal imbalances, poor blood flow, and excess fat.
When collagen fibres beneath the skin lose their elasticity, underlying fat cells begin to push through the layers of fibres, giving the appearance of dimpled skin.
Fortunately, there are a variety of treatments that can aid in lymphatic drainage and improved circulation to reduce the appearance of dimpling. From dry brushing to topical treatments, you aren't short of options when it comes to making cellulite go away. While you won't be able to get rid of cellulite completely, certain skincare products and procedures can make it look a lot less noticeable.
The Best Cellulite Treatments
Ahead, the best cellulite treatments you can use at home to smooth out the skin on your butt, thighs, arms, and stomach.
#1: Anti-Cellulite Body Polish
What it is: A swirled, exfoliating polish of plumping watermelon and vegan collagen booster. Rainbow Beauty Anti-Cellulite Polish is designed to support collagen production, fill in dimples, and make skin look visibly smoother and firmer.
Key ingredients: Watermelon + vegan collagen booster. They both work in tandem to mend connective tissue, spur skin's recovery, and intensely hydrate skin, visibly reducing the appearance of cellulite.
How to use: In the shower or bath, massage a handful anywhere on your body where you want to target cellulite. Rinse off, pat dry.
#2: Anti-Cellulite Body Serum
What it is: A satiny, lightweight body serum developed to boost collagen and improve circulation to reduce the appearance of dimpled skin. Besides smoothing the skin, this formula offers full body contouring, giving skin a more toned and sculpted appearance.
Key ingredients: Watermelon + vegan collagen booster. While watermelon hydrates, vegan collagen booster increases skin's elasticity, delivering smoother, firmer skin.
How to use: Apply 2-4 drops daily onto clean skin. For best results, use 2x a day.
#3: Anti-Cellulite Body Butter
What it is: A buttery body moisturizer developed with key ingredients like watermelon and vegan collagen to restore moisture and plump out dimpled skin. This formula also helps with stretch marks and sagging. Thanks to its base of shea butter, it's perfect for alleviating dry skin. Shea butter is also known for diminishing discoloration and acne scars.
Key ingredients: Watermelon + vegan collagen. These actives work in tandem to plump, smooth, and reduce the appearance of cellulite.
How to use: Apply a dollop anywhere on your body where you want to target cellulite. For optimal results, use daily.
#4: Tighten Butt Mask
What it is: A whipped, fluffy butt mask that offers gentle exfoliation and firming effects for a smoother, clear, and brightened butt. Utilizing the tightening powers of retinol and papaya, this formula will work wonders on your booty.
Key ingredients: Retinol + papaya. Retinol is a powerhouse anti-aging ingredient that boosts collagen and elastin in the skin, giving skin a smoother and firmer appearance. Papaya hydrates an plumps out dimples.
How to use: In the shower, take a small amount of mask, mix with a little water to get a nice lather, and rub on your booty in circular motions. Leave it on for 15-20 minutes, then rinse and pat dry.
#5: Smooth Body Serum
What it is: A silky, rejuvenating body serum that harnesses the smoothing powers of strawberry and niacinamide to fight fine line formation and sagging skin while targeting cellulite. Oh, and did we mention it smells like freshly picked strawberries!
Key ingredients: Strawberry + niacinamide. Naturally rich in AHAs (exfoliating acids), strawberries gently resurface skin, diminishing bumpiness. Niacinamide builds keratin, the protein that keeps skin taut and toned. It also deeply hydrates skin, offering relief to dry, dehydrated skin.
How to use: After cleansing, apply 4-5 drops anywhere on your body to firm and smooth. Apply 1-2 times a day for best results.
In-Office Cellulite Treatments
As much as we love topical cellulite treatments you can use at home, if your dimply skin is getting you down, consider booking an appointment with a board certified dermatologist. They'll be able to recommend in-office non-invasive treatments such as radiofrequency, Cellfina, Cellulaze, and laser treatment. Fortunately, these don't require any downtime and come with minimal side effects. Discuss with a dermatology professional if you have any questions or concerns.
In addition to trying the cellulite-fighting beauty products above, consider other at-home treatments such as body brushing, scrubs, supplements, and cellulite massagers. Alongside, this try following a healthy diet, doing plenty of exercise, and keeping your body fat down. While weight loss won't treat cellulite, staying healthy will help to prevent it.
Most importantly, start using the products mentioned above daily. You should notice an improvement in the treatment areas in as less as 4 weeks.