5 Body Polishes to Fix All Your Skin Issues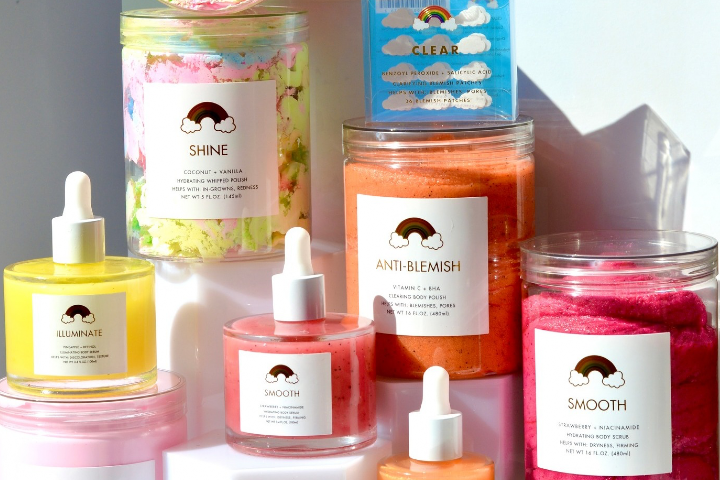 Body polishes work similarly to body scrubs. They exfoliate the skin to buff away dead skin cells, sebum, and grime, offering brightening and smoothing effects. At Rainbow, we offer a selection of body polishes that all offer a variety of benefits.
Whether you've got dry skin, sensitive skin, or acne-prone skin, we've got a polish for every skin type — and concern. From dryness to sagging and cellulite, here are five body polishes to fix all your skin issues.
What to Look for in a Body Polish
Body polishes come in all shapes and forms. Most importantly, you want to look for a polish with a gentle resurfacing ingredient such as sea salt, sugar, fruit enzymes, or jojoba beads. You'll want to avoid polishes with large particles like coffee grounds or walnut shells, which can irritate skin.
Next, make sure it's enriched with nourishing ingredients that'll hydrate and soothe, such as shea butter, coconut oil, aloe, green tea, vitamin E, and olive oil.
Polishes are typically physical exfoliants, which means they rely on small particles to buff away dead cells and dirt. Some formulas may contain chemical exfoliants such as glycolic acid, lactic acid, and salicylic acid, but it's uncommon.
Best Body Polishes to Shop Now
#1: Boobies Polish
Helps with: Sagging, Stretch Marks + Boobne
Boobies Polish is a gentle, exfoliating chest polish formulated with a blend of coconut, hibiscus, and vanilla with a base of natural salt. This tropical formula helps to buff away dead skin cells and grime, revealing your freshest, brightest boobs. It's also rich in antioxidants, making it a powerful anti-aging product to restore your perkiest pair.
Whether you're dealing with sagging or stretch marks, this formulation supports collagen and elastin production, thereby promoting firmer, smoother skin. Thanks to its exfoliating effects, it helps to decongest pores and prevent breakouts for overall clarified skin.
#2: Booty Polish
Helps with: Stretch Marks, Cellulite + Butne
Booty polishes sloughs away the buildup of dead skin and excess oil on the skin's surface for clearer, brighter skin. This lightweight exfoliating polish was developed especially with your booty in mind. Made with mixed berries and retinol, this butt treatment helps to smooth skin texture, tighten sagging, and reduce the appearance of stretch marks.
Retinol is a powerhouse active ingredient. It boosts collagen production and spurs cellular turnover, manifesting your smoothest and tautest tush. High in antioxidants, mixed berries help with hyperpigmentation, acne, and eczema.
Include this body exfoliator in your daily skincare routine to keep your booty silky soft, fresh, and glowing.
#3: Anti-Cellulite Polish
Helps with: Cellulite, Hyperpigmentation + Dullness
Cellulite is a common skin complaint that affects almost 90% of women. It's nothing to feel ashamed about, but it's also fine if you want to see the back of it. Anti-Cellulite Polish can assist in making your dimpled skin appear less noticeable with daily use.
This swirled, exfoliating watermelon and vegan collagen shower polish is designed to repair UV damage, address hyperpigmentation, and fill in dimpled skin on the body. It also contains vitamin E, which treats rough patches, dry skin and bolsters skin barrier function for dewy, youthful skin.
Anti-Cellulite Exfoliating Body Polish is one of our fave skincare products for manifesting smooth, healthy skin. This invigorating scrub will also help to reverse dull skin, leaving skin feeling babysoft and your entire body glowing.
#4: Illuminate Polish
Helps with: Dullness, Dryness + Discoloration
A detoxifying and exfoliating body scrub enriched with brightening pineapple and resurfacing retinol. These actives work in tandem to remove dead cell buildup, boost radiance, and diminish dark spots and discoloration.
Retinol resurfaces to remove dirt, dead skin, and oil for a smoother, more even skin tone and texture. Rich in brightening alpha hydroxy acids (chemical exfoliants), pineapple helps reduce the look of dark spots, redness, and scarring. Together, they're the dream duo for giving your entire body the ultimate glow up.
#5: Shine Polish
Helps with: Redness, Irritation + Ingrown Hairs
Exfoliation is essential prior to shaving to ensure a smooth razor glide without irritation or ingrown hairs. Shine Polish is a fluffy swirl of ultra nourishing coconut oil, cocoa butter, and vitamin E. This rich, yet lightweight, whipped shave polish is perfect for sensitive skin and coarse hair. It evenly coats and moisturizes every hair follicle for an irresistibly smooth shave minus razor burn and ingrowns.
Thanks to its lightweight consistency, soon-to-be-shaved skin will get all the replenishment it needs without clogging or dulling razors like heavier shave creams. It's also deeply hydrating, so your skin won't feel itchy and dry after shaving.
What to Do After Polishing Your Skin
Once your skin is freshly buffed with your chosen body treatment, the next step is to slather on a hydrating lotion to seal in moisture for long-lasting silkiness. If you have a skin condition like acne, the first step would be to apply your topical treatments (i.e. cleansers, serums etc.) before going in with the lotion. Since polishing preps skin for enhanced product absorption, it really is the best time to pat them on.
Finally, finish up with a generous layer of sunscreen with SPF 30 or higher. Exfoliated skin is typically extra sensitive, which is why it's so important to coat your skin in sun protection before leaving the house.
According to dermatologists, some polish treatments (provided that they're super gentle) can be helpful to those with skin conditions such as eczema and keratosis pilaris. Pick one of the polishes above to start addressing your skin concerns. Whether it be dryness, dullness, cellulite, or sagging, we've got just the formula that can help.
Especially if you've got delicate skin, even the best body scrubs can be too harsh. Even more so if they contain irritating ingredients like essential oils. We recommend sticking to a body polish instead, as polishes tend to be gentler on the skin — yet equally as effective.