5 Benefits of Butt Scrubs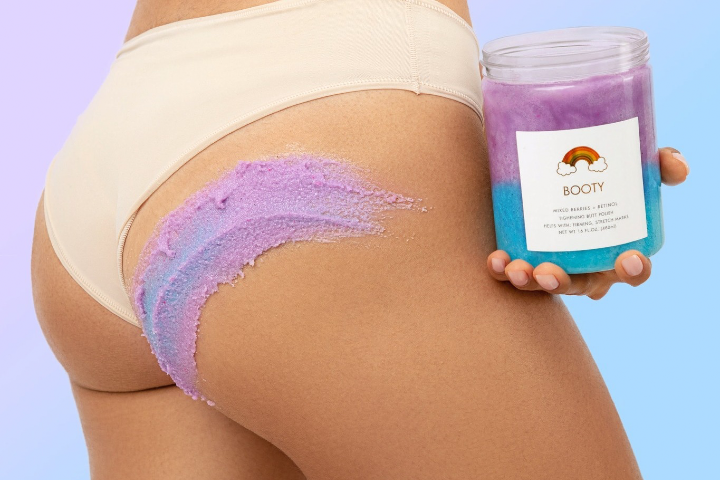 So you're already using a scrub or chemical exfoliant to buff away buildup on your face. Turns out, your booty needs some buffing too — via a gentle yet invigorating butt scrub. Sadly, the humble peach gets so often neglected when it comes to skincare, but it deserves just as much love as anywhere else.
Just like your face, neck, and the rest of your body, your buttocks experiences many of the same skin concerns: breakouts, dullness, stretch marks, and sagging. Here's why you need to start buffing your booty today...
#1: Butt Scrubs Brighten
Like any other exfoliant, butt scrubs work to shed the buildup of dead skin cells and impurities, revealing fresh, glowing skin. If your booty's looking a little dull these days, reach for a scrub to buff away the dullness. Especially in the colder months when skin gets drier, your skin loses its glow. That's because light doesn't reflect dry skin, leaving your booty looking dry, dull, and a little sad.
Include a butt scrub in your weekly skincare routine to get back your glow. It works just like any other body scrub. The only difference is that it's designed for your butt, filled with active ingredients that specifically target butt skin concerns.
Believe it or not, exfoliation is an instant fix for glowing skin. It's one of the few skincare products that works almost immediately.
#2: Butt Scrubs Lift + Tighten
Not all butt scrubs do, but the right one will. If you're looking to lift and firm your buttocks, choose a formula made with collagen-boosting, elasticity-restoring ingredients such as retinol or vegan collagen. They'll give your tush an extra push, leaving it juicier, bouncier, and higher.
You'll find butt masks, serums, and lotions that offer tightening effects. However, it's important to check the ingredients list before committing to a butt-targeted product. If it doesn't contain retinol or another collagen-enhancing ingredient, it's probably not going to give you the results you desire. You'll also want to look out for antioxidant-rich scrubs since antioxidants help to protect skin against UV damage, preventing fine lines and sagging from occurring in the first place.
#3: Butt Scrubs Soften Stretch Marks
Stretch marks form when the skin stretches or shrinks quickly, causing collagen and elastin — the skin's building blocks) to rupture. Once skin begins to heal, stretch marks may appear. It's nothing to be concerned about and you certainly don't need to feel pressured into making them go away. However, if you'd prefer your stretch marks to look less visible, it's best to use products that resurface and rebuild collagen, as these improve skin tone and texture.
Stretch marks can occur almost anywhere on the body — the arms, belly, thighs, and especially the butt. With the right butt scrub, you can look forward to a smoother, mark-free backside in next to no time. You'll need to be super consistent, though!
Butt scrubs may not work on severe cases of stretch marks. Speak to your dermatologists about in-office procedures.
#4: Butt Scrubs Minimize the Appearance of Cellulite
Cellulite affects almost all women. It's totally common. Essentially, cellulite is pockets of fat deposits that lie below the skin's surface, giving skin a dimpled appearance. It most commonly affects the hips, thighs, and butt. The secret to getting rid of cellulite (or at least make it a lot less noticeable) is by focusing on rebuilding collagen and spurring circulation.
Butt scrubs resurface skin, improving skin texture and reducing the appearance of dimply skin. The ones containing collagen-supporting actives like retinol and antioxidants can also help to rebuild collagen in the skin for a booty that looks as smooth as it feels.
Butt scrubs may not work on severe cases of cellulite. Consult a board-certified dermatologist about in-office procedures.
#5: Butt Scrubs Banish Butt Acne
Clogged pores are usually to blame for butt acne (aka, buttne). The best way to deal with congested pores, or hair follicles, is with exfoliation. Butt scrubs buff away the buildup of excess oil, impurities, and dead skin cells, keeping pores clears and butt blemishes at bay.
Some scrubs contain sugar to manually remove dead cells, others contain chemical exfoliants such as glycolic or salicylic acid, and others harness the resurfacing benefits of retinol to clarify pores and prevent pimples from popping up on your derriere.
In addition to clearing away buttne, a butt scrub can also address hyperpigmentation and acne scars on your behind.
HOW TO USE A BUTT SCRUB
To get the most out of your butt scrub, be sure you're using it the correct way.
Start in the shower, scoop out a palmful of scrub, and massage it into your booty using circular motions. Let it sit on the skin for a couple of minutes so those nourishing actives can sink in. Then rinse with warm water and follow up with a booty mask or cream.
If you've got oily or acne-prone skin, exfoliate your butt 3-4 times a week. For those with dry or sensitive skin, aim to use your butt scrub only 1-2 times a week to avoid dryness and irritation. And remember to complete your routine with a hydrating hyaluronic acid serum or lotion to seal in moisture and keep your booty baby soft all day long.
SHOP Our Tightening Booty Scrub
What's vegan, cruelty-free, and ready to banish all your booty woes? That would have to be Rainbow's BOOTY Scrub.
Lightweight, fluffy, and exfoliating, BOOTY Scrub is packed full of brightening, skin-smoothing retinol + mixed berries. It was made with your butt in mind — designed to make it smoother, firmer, and blemish-free. Thanks to its powerhouse ingredients, Booty Scrub can treat everything from cellulite and stretch marks to dullness and buttne. It can even help your skin fight off hyperpigmentation, eczema and fine line formation. 
If you don't already have a butt scrub in your self-care routine, make this one your go-to. In addition to pampering your skin with sheet masks every week, try making time for a butt care routine too. It'll be sooooo worth it!