3 Shaving Cream Alternatives Already in Your Home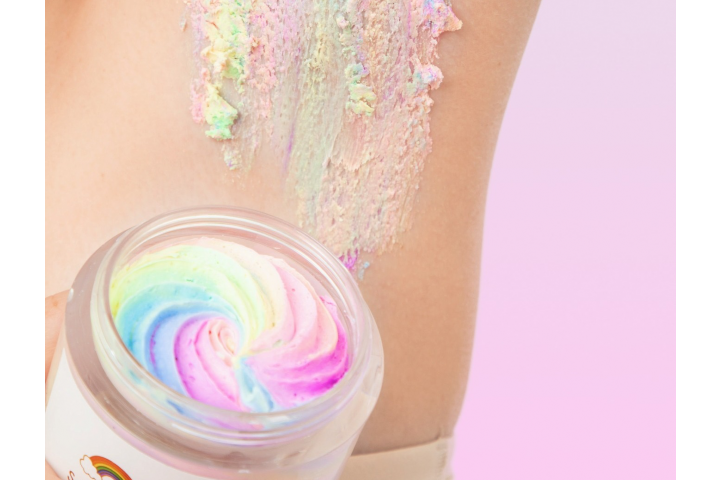 Shaving cream is essential for getting that ultra-close, uber-smooth shave sans ingrown hairs and razor burn. It creates a barrier between your skin and razor, ensuring an irritation-free glide. But what if you're already in the shower getting ready to shave and then you realize you've ran out of shaving cream? The solution: raid your cupboards!
While it's always best to use a shaving gel, cream, or butter, there are a few shaving cream alternatives you can try if you're stuck. Ideally, you want a product that's moisturizing, soothing, and conditioning — just like your regular shaving cream.
Here are three great shaving cream substitutes you can use the next time you run out of the good stuff.
BEST SHAVING CREAM ALTERNATIVES
Since you should NEVER dry shave, here are some shaving cream alternatives you can try when you've got nothing else.
#1: Hair Conditioner
Before razor meets skin, you need to slather on some kind of lubricant to prevent friction — and ultimately, skin irritation. Next time you run out of shaving cream, reach for your hair conditioner.
Conditioners are formulated with a slew of nourishing, hydrating ingredients like shea butter, coconut oil, sweet almond oil, and olive oil — all of which hydrate, heal, and soften skin. When applied to your skin, they soften hair, making it easy for your razor to glide over and less likely for nicks, razor bumps, and burns to pop up. It's an excellent option for those with dry skin and sensitive skin.
Squeeze out a dollop of conditioner and mix with a little water to create a lather. Apply all over your to-be-shaved areas, and start shaving!
#2: Body Lotion
Body lotions and butters also do a good job at stepping in when you've ran out of shaving cream. With their creamy texture and moisturizing properties, body lotions prep skin for an effortless razor glide. They ensure a close shave and prevent the onset of ingrowns and razor burn, while leaving skin feeling super soft post-shave.
Pick formulas enriched with nourishing ingredients like plant-based oils and aloe vera, which help to soothe, hydrate, and repair skin.
Apply a thin layer of lotion onto your skin before shaving. Make sure you rinse your razor blades after every swipe to avoid clogging them up with lotion, dead skin, and hair, which will only dull the blades and increase your risk of post-shave irritation.
#3: Coconut Oil
Coconut oil can be found in many skincare products, including cleansers, body washes, and creams. Packed with antioxidants and fatty acids, coconut oil is a great shaving substitute because it hydrates and protects the skin, ensuring a smooth razor glide sans nicks and razor bumps.
It also boasts antibacterial and antimicrobial properties, making it ideal for preventing shave-related irritation. Especially if you've got dry or sensitive skin, you're going to want all the protection you can get to stop your skin from freaking out.
While baby oil is often listed as a shaving alternative, coconut oil is the favorable option as it boasts properties that help to hydrate, heal, and nourish skin.
SHAVING CREAM ALTERNATIVES TO AVOID
In addition to the ones listed above, aloe vera gel also makes an excellent shaving cream alternative thanks to its anti-inflammatory effects. While there are numerous substitutes out there, not all of them are effective. In fact, some should be avoided altogether — particularly those DIY formulas that involve certain messy household ingredients.
Peanut butter, for instance, isn't just messy, it also doesn't have any direct benefit on the skin. Other ingredients that people commonly use to make homemade shaving cream include honey and avocado. While both of these do have benefits for the skin, they're pretty messy to deal with. Unless you're content with a long winded, super messy shaving routine, we recommend sticking to the cleaner alternatives.
SHOP SHAVING PRODUCTS
From shaving prep to aftershave care, here are all the best shaving products you can use to get a silky smooth shave.
SHINE Shave Polish
A rich yet lightweight whipped shave polish to buff away dirt and dead skin — and prep skin for a perfect shave. Ideal for sensitive skin, this resurfacing treatment creates a clean, fresh canvas on which your razor can glide over. It's also deeply moisturizing and conditioning (and won't clog your pores!). You can use SHINE Shave Polish as either an exfoliator or a shaving cream. You choose!
SMOOTH Shave Butter
A whipped shave butter enriched with the healing and hydrating properties of coconut oil, shea butter, vitamin E, and cocoa butter to provide an irresistibly smooth shave every time you use it. SMOOTH Shave Butter can be used on facial hair, leg hair, or bikini line hair — or basically anywhere hair meets skin. Unlike your regular shaving soap, it won't leave skin parched.
SMOOTH Serum
An age defending serum that brightens and tightens skin. SMOOTH Serum is a silky, flash absorbing formula of vitamin C and vegan collagen, which work in tandem to brighten, smooth, and treat shave-related hyperpigmentation. If you want your skin to glow post-shave, slather those freshly shaved areas with SMOOTH Serum — and your skin will look luminous.
HYDRATE Body Butter
A restorative and repairing body moisturizer that harnesses the healing powers of shea, coconut, and vitamin E for day-long smoothness and dewiness. HYDRATE Body Butter should be the final step in your shaving routine to seal in moisture and ensure all-over silkiness.
We're all guilty of searching Google for alternatives. Turns out, you have enough options the next time you run out of shaving cream. While we don't recommend using these on a regular basis, they make great stand-ins for ensuring a silky smooth shave without nicks, razor burn, and ingrowns.
And the best part? You can find these three shaving cream alternatives in your kitchen, shower, or beauty cabinet! It couldn't be more convenient!