3 Reasons to Start Dry Brushing Today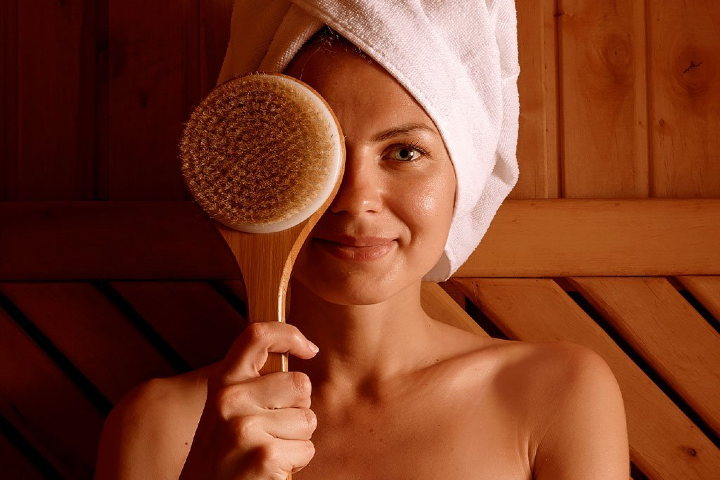 Since all of us yearn for smooth, glowing skin, we thought we'd dig a little deeper into the skincare benefits of the ancient ritual, dry brushing.
Loved by celebrities, dry brushing is a skincare technique that's been praised for its ability to unlock a gleaming, irresistibly soft body. But just how effective is dry brushing, and will it really manifest your silkiest skin?
Before you grab a brush and get buffing, here's everything you should know about dry brushing, from what it is to why you should start making it part of your daily skincare routine.
What is Dry Brushing?
Dry brushing is the process of massaging your body with a body brush in a bid to increase circulation and blood flow for instantly brighter skin. It's a form of exfoliation that aids in sloughing off dead skin cells, revealing fresher, healthier skin.
According to dermatologists, dry brushing can help boost circulation, aid with lymphatic drainage, exfoliate dead cells, and even plump the skin.
Besides being beneficial for your skin, the pros say regular dry brushing can improve your physical health, too, due to its ability to detox and remove toxins.
Dry Brushing vs Body Scrubs
Dry brushing and body scrubs both offer exfoliating benefits. That said, each has its own purposes. For simple exfoliation, body scrubs are the best option. These scrubs rely on small particles such as sugar, salt, or coffee to buff away the buildup of dead skin, sebum, and impurities.
A dry body brush, on the other hand, relies on natural bristles to spark lymphatic drainage in addition to gently exfoliating the skin. Since your lymphatic system is responsible for removing waste and byproducts, dry brushing is an excellent way to achieve radiant, healthy skin.
Both dry body brushing and body scrubs have their own set of benefits. Most people can benefit from using both in their regimen.
Benefits of Dry Brushing
Dry brushing is an ayurvedic ritual that involves brushing your whole body with a bristled brush. While it hasn't been studied significantly, available research suggests that dry brushing can be effective for reducing the appearance of cellulite and strengthening immune system function.
Here are the three main benefits of dry skin brushing.
#1: Brightens Skin
There are two reasons why dry brushing brightens skin. First, its exfoliating powers. By removing dead cells on the skin's surface, fresh cells come to the surface and leave skin visibly brighter.
Second, its ability to boost blood circulation. By applying light pressure to your skin using circular motions, your body pushes more blood to those areas, leading to a brighter-looking body.
#2: Reduces Cellulite
In addition to leaving skin glowing, dry brushing encourages lymphatic drainage. Essentially, dry brushing spurs the transportation of lymph fluid through the lymph nodes, therefore removing toxins. This also helps improve the appearance of cellulite by manifesting a smoother, less dimply skin texture. Plus, it has toning effects, giving your legs and butt a more tightened, firmer appearance.
#3: Improves Product Absorption
By buffing away dead cell buildup, your skincare products will be able to absorb more deeply — and ultimately, work better. From your hydrating body oil to your anti-aging retinol serum, all your products will work harder when applied to freshly brushed skin.
Is Dry Brushing Safe for Sensitive Skin?
While dry brushing is an ancient practice, it should nevertheless be done with caution to prevent dryness, redness, and irritation. If you have sensitive skin or a skin condition such as eczema or psoriasis, steer clear of dry brushing as it can cause further irritation.
Even if you don't have a skin condition, you should avoid brushing too hard, which can lead to inflamed skin. Always apply in gentle circular motions and avoid brushing aggressively to keep your skin healthy and happy.
How to Dry Brush
Here's the right way to dry brush your body.
Choose the right brush. You want bristles that are invigorating enough to get your circulation moving without being too abrasive. Alongside this, choose a brush with a long handle so that it's easier to hit those hard-to-reach places.

Start with dry skin. For the best results, it's always better to start off with completely dry skin. Since you'll be lifting off all those dead cells, it's better to leave showering 'till afterwards.

Brush from bottom to top. To encourage lymph flow, start at your ankle and then move the brush over your skin in circular motions, working towards the heart. Start with the feet, then the lower legs, knees, thighs, butt, stomach, chest, back, and armpits. Always maintain a firm pressure as you brush.

Rinse + moisturize. Hop in the shower, wash away those loosened cells, and finish with a hydrating body lotion.
According to the derms, you can dry brush at any time of day. However, the best time to do it is right before you shower or bathe.
Pair with these Cellulite-Fighting Skincare Products
If you're trying to reduce the appearance of cellulite, start dry brushing daily and use in combination with these cellulite-reducing products.
Anti-Cellulite Body Polish
A swirled, exfoliating watermelon + vegan collagen scrub! Designed to boost circulation and stimulate lymphatic drainage for visibly smoother-looking skin all over. This daily in-shower treatment also helps with hyperpigmentation, UV damage, and stretch marks.
Anti-Cellulite Body Serum
A satiny, lightweight serum formulated with watermelon + vegan collagen, which work in tandem to boost collagen and improve circulation to fade the appearance of dimpled skin. It also offers intense hydration to dry, dehydrated skin.
Anti-Cellulite Body Butter
A velvety-smooth and buttery body moisturizer made with key ingredients like watermelon + vegan collagen to instantly restore moisture and diminish dimpled skin. This post-shower treatment also helps with stretch marks, sagging, and discoloration.
Dry brushing has a slew of skin (and health!) benefits. From brightening skin to smoothing out dimpling, making your skincare products work harder to boosting your immune system, there are many reasons to start dry brushing today.
Have you tried dry brushing yet? We'd love to hear what you think — and the results you've seen so far!