3 Reasons to Exfoliate Your Bikini Area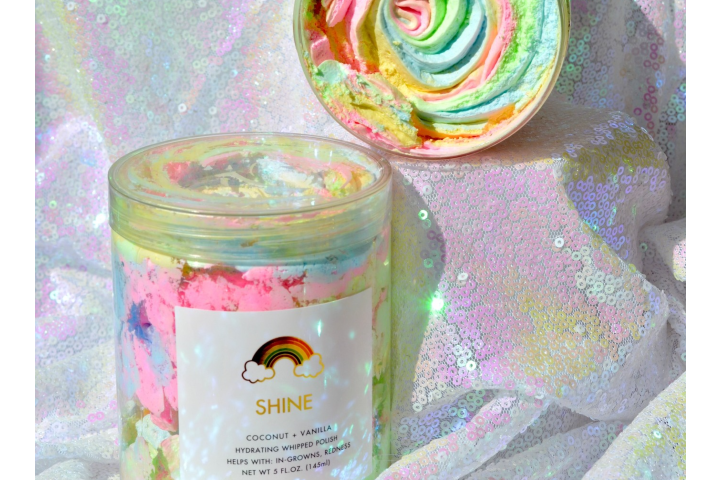 You're probably already using an exfoliator for your face, but one area you could be neglecting is your bikini line. Exfoliation is an essential step in both your face and body skincare routine. It helps promote skin health, keeps skin smooth, and wards off a range of skin concerns (more on that below).
If you're not exfoliating your bikini area already, you should be. Here are three reasons why.
WHY BIKINI AREA EXFOLIATION MATTERS
Want to know why you should be exfoliating the bikini area? Here's why...
#1: Exfoliating Your Bikini Area Prevents Razor Bumps
Are you prone to ingrown hairs on your bikini area? Razor bumps are typically the result of poor shaving technique. Exfoliation can help prevent them. According to dermatologists, exfoliating before and after shaving can stop razor bumps from popping up.
By doing it before shaving, you're prepping skin for an easy razor glide by buffing away dirt, oil, and dead skin cells that buildup in your razor blades. Preventing this buildup with gentle exfoliation is a key step to warding off razor bumps and ingrowns.
By doing it a few days after hair removal, exfoliation prevents bumps as hair starts to grow back. "That leaves less of a chance for the hairs to curl in on themselves, and exfoliates the area so there is nothing to clog pores, making them vulnerable to bacteria and inflammation," says aesthetician Lara Kaiser.
#2: Exfoliating Your Bikini Area Treats Discoloration
Seeing dark spots and hyperpigmentation on your bikini line? One of the most common reasons for discoloration in the bikini area is a hormonal imbalance, as excess estrogen stimulates melanin production. However, bikini line discoloration can also be caused by friction from tight clothing and hair removal processes like shaving and waxing.
Exfoliation helps to slough away dead skin cells and stimulate the generation of new, evenly pigmented cells for clearer skin. It won't give you instant results but over time, frequent exfoliation can minimize the appearance of dark spots and discoloration in the pubic area.
#3: Exfoliating Your Bikini Area Keeps You Smooth
One of the best things about exfoliation is its ability to instantly smooth skin. You won't have to wait weeks before you see results. With exfoliation, the results are pretty much instant. That's because exfoliation is essentially sweeping away old, dead cells that leave skin feeling rough and bumpy.
Incorporating a body scrub or exfoliating cleanser into your weekly routine can help maintain a silky smooth bikini area. And if you're planning on hitting the beach a lot this summer, you'll be happy to show off your smoothest coochie.
HOW TO EXFOLIATE THE BIKINI AREA
Here are some tips for properly shaving your bikini hair and swerving issues like razor burn, bumps, and discoloration.
Choose Your Exfoliant
You can choose between a physical exfoliant like a scrub or washcloth, or a chemical exfoliant like glycolic acid or lactic acid. Both work well!
Exfoliating scrubs rely on particles like sugar, salt, and jojoba beads to manually buff away dirt and dead skin clogging the pores and hair follicles. Chemical exfoliators rely on acids such as AHAs (glycolic, lactic acid) and BHAs (salicylic acid) to dissolve dead skin from the skin's surface.
Both are effective at clearing clogged pores and providing a smooth, clean base for your razor to glide over.
Apply
If you're using a scrub, always start in the shower. The warm water will open your pores, soften hair follicles, and allow skincare products to better penetrate the skin. Take a scoop of your scrub, and massage it into the area using circular motions. Rinse well, and pat skin dry.
Since chemical exfoliants come in many forms — cleansers, serums, lotions, and masks — you don't always need to be in the shower to exfoliate your bikini line. Obviously if you're a cleanser, you do. But if you're using an exfoliating serum, lotion, or mask, you can apply it anytime, anywhere. When using a cleanser, apply it to the area and let it sit on the skin for 1-2 times before rinsing to allow those exfoliating acids to activate and work on your skin.
Moisturize
Like shaving, exfoliation can dry out the skin and leave it susceptible to redness, irritation, and rashes. And since it's already such a sensitive area, it's important to keep skin down there super nourished and hydrated.
After exfoliating, apply a small amount of a lightweight body cream or hydrating serum to ward off dry skin and support the skin barrier to prevent inflammation. You can also use a body oil if you prefer — or both. Just make sure you apply the oil after your moisturizer.
BEST BIKINI AREA EXFOLIATORS
Whether you're prepping to shave your pubic hair or simply want to give your coochie a glow up, pick one of the below exfoliators to buff your bikini area.
SHINE Shave Body Polish
A rich, fluffy and lightweight whipped shave polish of coconut, vanilla, and shea butter that's perfect for sensitive skin and coarse hair. It coats and moisturizes every hair follicle for an irresistibly smooth shave every single time you use it. Plus, it leaves your bikini area looking and smelling sensational!
GLOW Body Mask
Powered by glycolic acid and bakuchiol, this exfoliating body mask swipes away dirt and dead skin, unclogging pores, preventing breakouts, illuminating the skin, and smoothing the bikini area. You can also use it on the rest of your body for the ultimate head to toe glow up!
TIGHTEN Body Serum
Reveal your smoothest, brightest bikini line with Tighten Body Serum. AHAs and red microalgae work in tandem in this formula to sweep away dead cells, protect skin from free radical damage, and reduce the appearance of discoloration. It also preps skin for body hair removal.
Exfoliating the bikini area can help keep you smooth, clear, and discoloration-free down there. For best results, aim to exfoliate bikini area 1-2 times per week, and always finish with a lightweight moisturizer.